We strive to use sustainable materials as much as possible for our products. Wood is also our passion. We use larch / douglas, chestnut, cumaru, Accoya and oak wood as standard wood species. In consultation we are open to use other sustainable materials and wood species.
Larch / Douglas
Origin: Netherlands and Germany

Larch / Douglas fir is particularly durable due to the large amount of resin that is naturally present. These European coniferous woods are increasingly appreciated by architects for their durability (class III), fine processing and availability. Larch / Douglas is very suitable as construction wood. In particular for patio's, fences and decking or garden furniture. We only supply our larch / douglas products in combination with a post support so that the wood does not come into contact with the ground. This makes our products last even longer.
Chestnut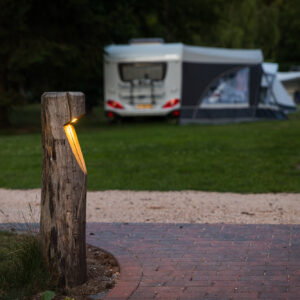 Origin: France and Italy
Chestnut wood is nice and robust material. The wood is very sustainable by nature and is categorised in sustainability class I-II. It is excellent timber: resembles oak wood in terms of structure. Chestnut wood is highly sustainable as the (core of the) wood contains a lot of tannin. The wood of the sweet chestnut has fine fibres and it is quite resistant to moisture. It has a longer shelf life than oak wood and thus it is very suitable for the manufacturing of fences, garden furniture, bridges and supporting posts for fencing along the coast.
The sweet chestnut (Castanea Sativa) is a member of the beech family, also called Fagaceae. It is a tree type that grows fairly fast and still produces hard wood. In some parts of Southern-Europe, the 'coppicing culture' has existed for more than two thousand years. In these areas, due to the turnaround time of the coppice (15-20 years), only a small area is cut every time, in order to maintain a varied biotope.
Oak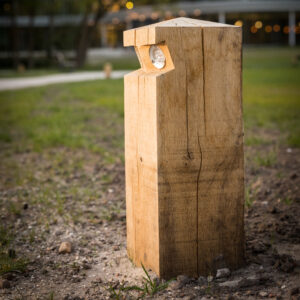 Origin: France

Our oak wood originates from France and because of its sustainability class II we call it European hard wood. Oak is strong and hard and still easy to process and finalise. Whilst under water it should be properly protected and preserved (piling and yacht construction). Oak can be applied almost anywhere, for instance as construction wood, in shipyards, when building bridges and water works and as a lighting armature. Just like the sweet chestnut, oak has a high natural tannin content. Metals that come into contact with oak may corrode as a result of this.
Oak wood has its very own properties, with nice 'concentric zones'. It can be used untreated and while exposed to the elements, over the years it will age lightly in a very natural way. Oak wood is meticulous sawn while fresh and usually delivered planed for our applications in the lightings products.
Accoya
Origin: Netherlands
A very interesting type of wood, if sustainability is at the top of your list. Accoya wood is categorised in sustainability class I and is the most sustainable wood worldwide. Above ground it will remain in top condition for 50 years, whilst underground, it will last for 25 years or longer. Accoya is modified and made sustainable through and through by use of a natural acidification method. This means that when sawing or profiling accoya wood never any wood surfaces will appear that have not been made sustainable. This modification provides two important advantages: The sustainability can be absolutely relied in a way that was previously impossible. And the wood has a guaranteed constant quality in accordance with defined standards. More information about accoya.
Cumaru
Origin: Brasil
Cumaru is a very stable and durable type of wood with a beautiful color and appearance. This type of wood is therefore not only used for its appearance, but also for its durability. The South American wood species has a yellow to reddish brown color. Despite its weight and hardness, cumaru is easy to work with. After planing, the surface becomes very smooth. Timberlab uses this type of wood as standard for the PUNTO. In addition, the PUNTO can be supplied with the FSC100% certificate. This ensures that the wood comes from forests that are managed sustainably.
Sustainability of our wood
| | | | |
| --- | --- | --- | --- |
| durability class | degree of sustainability | indicated lifespan in years | |
| 1 | very durable | > 25 | Accoya, Cumaru |
| 1-2 | durable to very durable | 15-25 | Chestnut |
| 2 | sustainable | 15-25 | Oak |
| 3 | moderately durable | 10-15 | Larch/Douglas |
| 4 | little sustainable | 5-10 | |
| 5 | not sustainable | < 5 | |